The Pain of The Path - TV Show
LOG LINE:
When a young black boy chases his NFL and Music dreams from the violent City of Flint, MI to being, a successful college student, teacher, and businessman. The ?Pain from His Path,? brings him back home to face his childhood peers that didn?t make it out the ghetto.
Cast Profile & Information
Star Character: Dr. Thurman Tucker plays the role of Bigg Rell
Genre: Drama Biography
Rating: PG - TV 14
Episodes & Time: Twenty & 30 Minutes
Release Date: July 13, 2023
Format: Streaming, OnDemand, DVD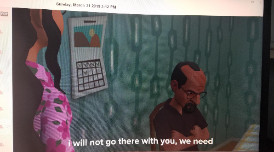 The Pain of The Path consists of twenty, 30-minute True Story Episodes of Epic Drama!
Set in Flint, MI, in the 1990?s expanding thru 2020 and inspired. We explore The Path of The Pain from struggles and successes of African American men who utilizes sports and music as an outlet to escape the ghetto streets for a brighter future.
From the start to the end, the star characters Paths are filled with so much Pain, that either makes them or breaks them?In the beginning, star character (Bigg Rell) tries to avoid the street life by playing sports, making music, but his best friend is one of the biggest drug dealers in Flint?In the midst of trying to do the right thing, the star character is haunted by the divorce of his parents?and the struggle of trying to convince his best friend to stop selling drugs?In the end, the star character returns to his hometown Flint, Michigan from college and reconnects with the former neighborhood drug dealer to form a record label?
The star character is a true-life person, that escaped the streets of Flint. He played college football, started a record label, owned a retail store, and became a Special Education teacher. Furthermore, he won a basketball championship as the Head Coach and authored a #1 selling book. Bigg Rell (Dr. Tucker) also graduated from College with a Doctorate Degree.
This story will inspire kids across the world, to believe that they can be somebody!!!
This show is a prime-time thriller about a young black boy who departs the inner life of Flint, MI, with dreams of making it to the NFL and becoming a rap superstar. But, the ?Pain from His Path? brings him back home to face his childhood peers that didn?t make it out the ghetto.